This week and next is the peak of the 2020 proxy season – despite the fact that 15% fewer meetings will be held over these two weeks as compared to the same period in 2019. The year-over-year decrease is attributable to the more than 100 companies that have delayed or indefinitely postponed their 2020 meetings (on average, these companies have set their meeting back by about a month). Nevertheless, most companies have decided to carry on with their annual meetings in one form or another.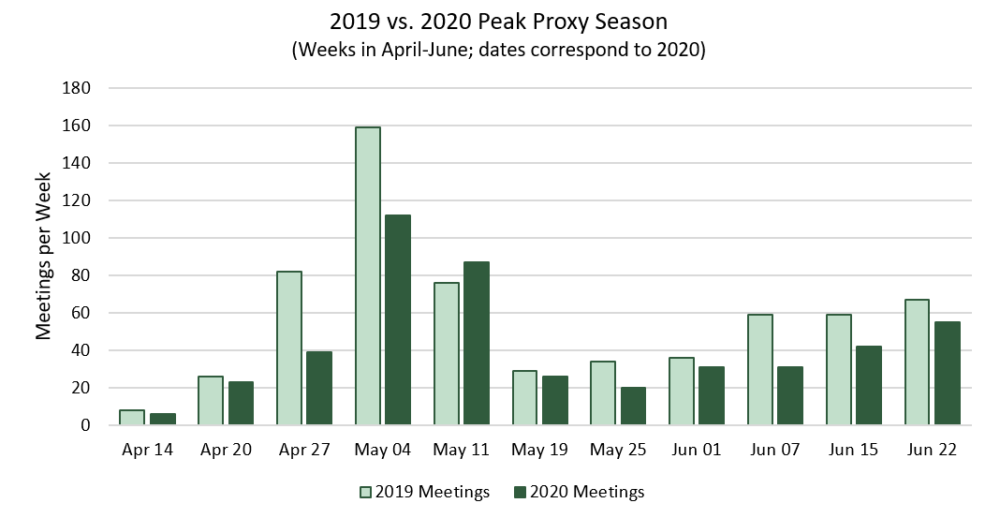 We have seen a wide range of approaches to holding shareholder meetings in the current environment. Many companies have engaged specialized virtual meeting service providers whose platforms allow participants to listen to the proceedings, view presentations, submit written questions, and vote their shares, all remotely and in real time. The dominant providers in Canada are Lumi and Broadridge.

At the other end of the spectrum are companies that have proceeded with a notionally physical meeting while discouraging shareholders from attending (some falling just short of "Abandon all hope, ye who enter our offices") and offering no opportunity for remote interaction. A few companies have omitted even an audio webcast of their proceedings.
As any physical attendance is discouraged and potentially illegal, fewer than ten "full hybrid" meetings – that is, meetings that provide for equal participation both virtually and in-person – have been scheduled. The few that have been held to date have been virtual-only meetings in all but name.
The more substantive hybridity in this proxy season is with respect to the opportunities for engagement afforded to meeting participants. Many companies have conducted their meetings using platforms which allow participants to ask questions (either in advance of or during the meeting) but which do not allow participants to vote. We call these "Limited Hybrid" meetings. At issue in these instances is not whether the meeting was fully physical or fully virtual, but whether it was fully a meeting. The significance of this question grows as participants' ability to interact drifts further from the in-person baseline.

Currently, 160 TSX-listed companies have scheduled exclusively physical annual meetings with no disclosed opportunity for remote participation (many of these companies will likely disclose modified arrangements as their meeting dates approach). A further 52 companies will offer shareholders the ability to submit written questions for consideration at a Q&A session following the meeting, but will not offer the ability to interact during the meeting itself, including by voting their shares at the meeting.
In the context of the pandemic, many institutions will be understanding of companies that choose to avoid the logistical, administrative, and – particularly for companies in hard-hit sectors – financial costs associated with transitioning to a virtual-only meeting. As the year progresses, however, and companies begin considering whether to continue with a hybrid or virtual meeting in 2021, institutions may become more active in pushing to preserve the rights they enjoy at in-person meetings.