Many issuers have been considering how to hold their annual shareholder meetings this year, given the various cautions and prohibitions against meetings of more than a small number of people as a result of the coronavirus.
Meeting by phone or video conference seems an obvious solution, since businesses around the world have gone virtual over the past two weeks. "Virtual meetings" involve all participants participating in the meeting electronically. "Hybrid meetings" involve some participants attending at a physical meeting, with others attending electronically. Both virtual meetings and hybrid meetings (which we will refer to as electronic meetings here) are different from webcast meetings. Webcast meetings allow those who access the meeting to watch, but not to participate in the proceedings.
The chart below shows the significant number of issuers who are turning to virtual and hybrid meetings. Of the 338 TSX-listed issuers that provided or amended notice of their annual meetings in the past month, 30% have announced a virtual or hybrid meeting, while a further 6% have cancelled or postponed their annual meeting indefinitely.

The trend toward virtual meetings began in mid-March and accelerated in the following two weeks (as shown in the chart below). We expect this trend to continue, with more issuers opting for some type of electronic meeting in order to keep to their schedule.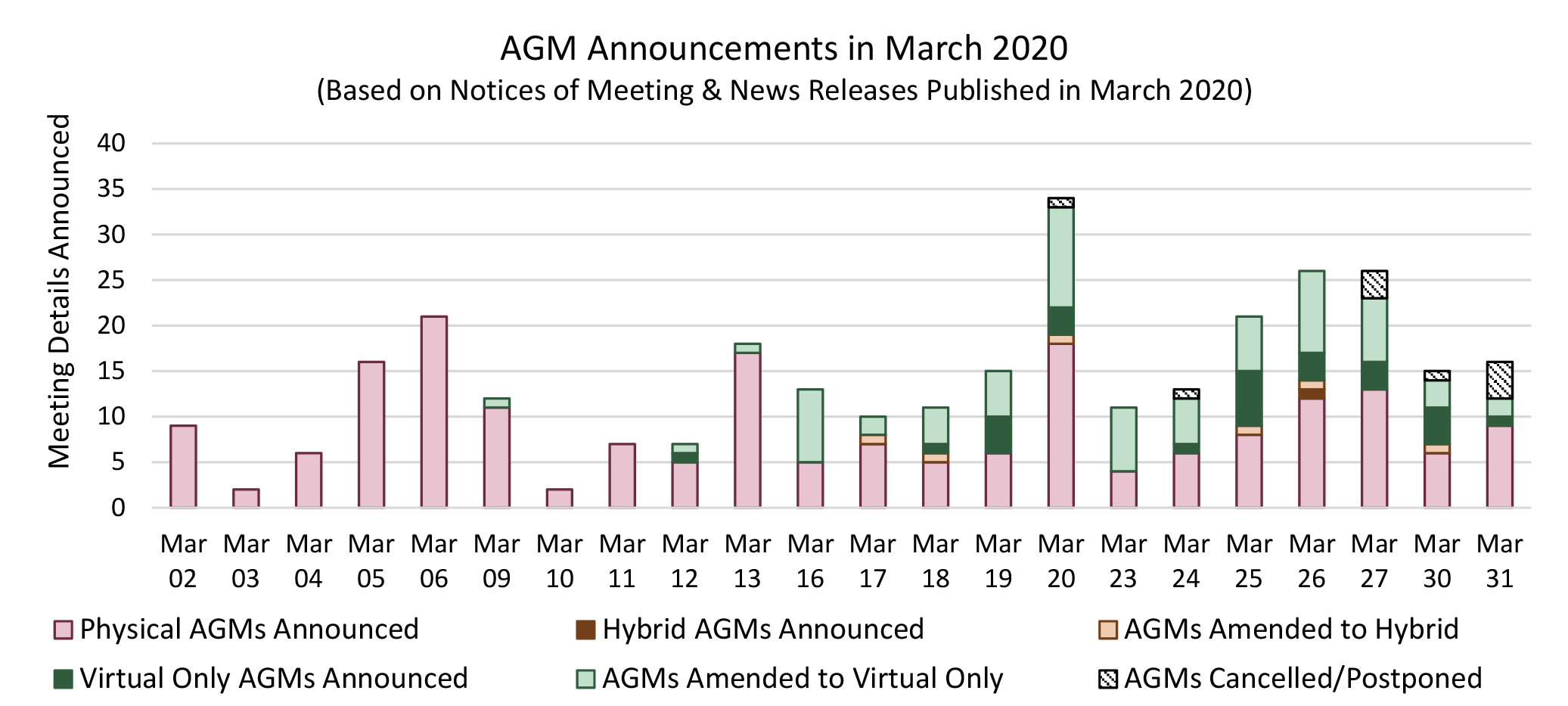 There are obstacles to holding a shareholder meeting electronically. In Canada, we have very little experience with virtual meetings – there have only been a handful to date. Few providers offer a tested platform for electronic meetings in Canada, and those which are able to offer a comprehensive solution may find themselves overwhelmed by the sudden demand this year. The 2020 proxy season may be a trial by fire for many issuers as they develop and implement processes and technologies they have never used before. Many statutes (such as the CBCA) require that participants be able to communicate adequately with each other. If the technology doesn't support or enable that degree of interaction between meeting participants, there could a challenge to whether the meeting was duly held.
Issuers may also encounter obstacles in their governing statute and constating documents. An electronic meeting is not permitted under every statute, and even where it is, the articles and bylaws may not permit an electronic meeting. A number of issuers have already turned to the courts to address these issues. For example, Telus obtained an order from the B.C. court to allow it to hold its annual meeting electronically. Eleven financial institutions obtained a similar order from an Ontario court several weeks later.
The Ontario government has sought to relieve Ontario corporations from constraints on holding electronic meetings. On March 31, 2020, the government issued an order pursuant to the Emergency Management and Civil Protection Act suspending certain provisions of the Business Corporations Act (Ontario) and the Corporation Act (Ontario) and substituting certain other provisions. In our view, issuers should rely on this order with caution. It is not clear that the government had the authority to issue this order and we recommend that issuers rely on this order only with the advice of counsel.
While issuers are anxious to carry on with their annual meetings in a manner that allows shareholders to participate fully, they must also be alert to the risks of a shareholder meeting that has been improperly called or held. A shareholder who was unhappy with the result could challenge the meeting and seek to have its results set aside. In some circumstances, it could be found at a later date that the directors were not duly elected and that any action that they took was invalid. Incumbent directors who did not stand for election again could find that they are still directors.
Issuers that are unable or unwilling to hold a virtual meeting may find that their in-person meeting can proceed as scheduled. The vast majority of shareholder votes are cast by proxy, and for many issuers a substantial number of attendees are beneficial shareholders, advisors, or members of the press. Some issuers have already opted to limit attendance at the meeting to registered shareholders only, thereby substantially reducing the number of people who are in the room. The TSX has extended the six month window within which issuers are required to hold their annual meeting of security holders. Issuers will be allowed to hold their 2020 annual meeting on any date in 2020 up to and including December 31, regardless of fiscal year end. The TSX is also extending the timeframe within which issuers must obtain security holder approval for certain security based compensation arrangements. The TSX Venture Exchange is also providing issuers with temporary blanket relief related to the timing of Annual Meetings and security holder approval of certain stock option plans.
There are a number of considerations in determining how to deal with annual shareholder meetings this year. Statutory barriers, technology risk and the implications of an improperly called or constituted meeting discussed in this note should be considered early in the process.