COVID-19 has already had an impact on our health and on our businesses. Politicians, health professionals, economists and business owners predict further challenges over the coming months. This of course raises disclosure issues for public companies.
We were interested in how Canadian public companies have dealt with COVID-19 issues in their public disclosure at this point in the crisis. We reviewed AIFs and MD&As published by TSX-listed companies for a recent 30 day period (February 19, 2020 and March 20, 2020).1 We compared these with the same documents published in 2019. We reviewed 1,264 documents in total.
There are a number of examples of very thoughtful disclosure about the novel corona virus. The great majority of issuers, however, did not refer to COVID-19 or pandemics at all. There was a small change in references to a recession.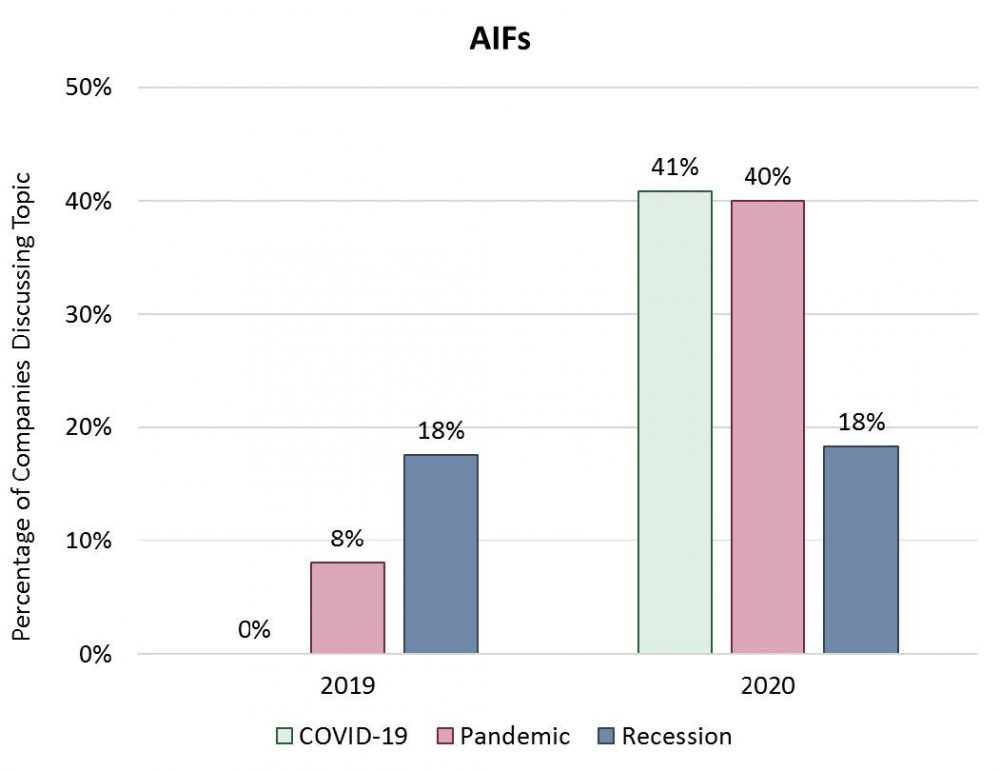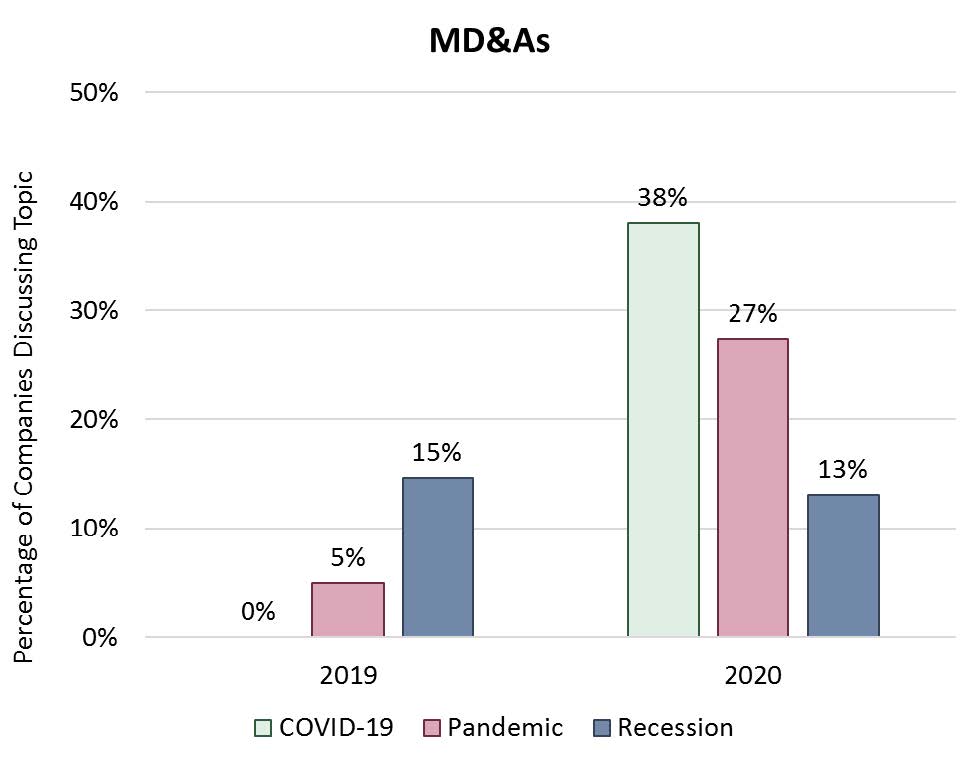 Issuers in the information technology, consumer services and consumer discretionary sectors were among the most likely to have included COVID-19 disclosures.
Company specific implications can result in material non-public information, for example, creating immediate obligations to disclose. This may be accompanied by restrictions on insider trading. Disclosure relating to liquidity and to risk should also be considered. If the company provides financial guidance, it may need to amend or withdraw that guidance in the face of a very uncertain economic future around the world.
Securities regulators have taken action on a number of disclosure fronts. The Canadian Securities Administrators ("CSA") initially encouraged issuers, on March 16, to apply for management cease trade orders if the issuer expected not to be able to meet filings deadlines. Circumstances developed quickly, however, and two days later the CSA announced that it would provide blanket relief for market participants in respect of filing deadlines on or before June 1, 2020. The blanket relief, published March 23, provides a 45-day extension for specified filings, encompassing the most common filings including AIFs and MD&As. The CSA provided further guidance, on March 20, with respect to disclosure obligations regarding changes to annual shareholder meetings. Issuers should consult the relevant order of their principal regulator for applicable conditions and details.
The TSX and TSX-V have separately taken measures in respect of COVID-19. The TSX is providing temporary blanket relief from compliance with certain requirements in the TSX Company Manual, including the filing deadline for financial statements and extending the timeframe for annual meetings to require that meetings be held only prior to the end of 2020, among others. The TSX-V is similarly providing temporary blanket relief with respect to the timing of annual meetings and other relief. The TSX and TSX-V expect listed issuers to continue to comply with applicable securities and corporate law requirements. Listed issuers should consult the TSX Staff Notices and TSX-V Bulletins for details applicable to their circumstances.
We are working with our clients to address the new disclosure challenges presented by COVID-19.
---
1 Where a company had not published one type of document in both 2019 and 2020, we omitted that company from the analysis with respect to that document type. Where a company amended a previously published document by republishing the document in its entirety, we considered only the amended document.